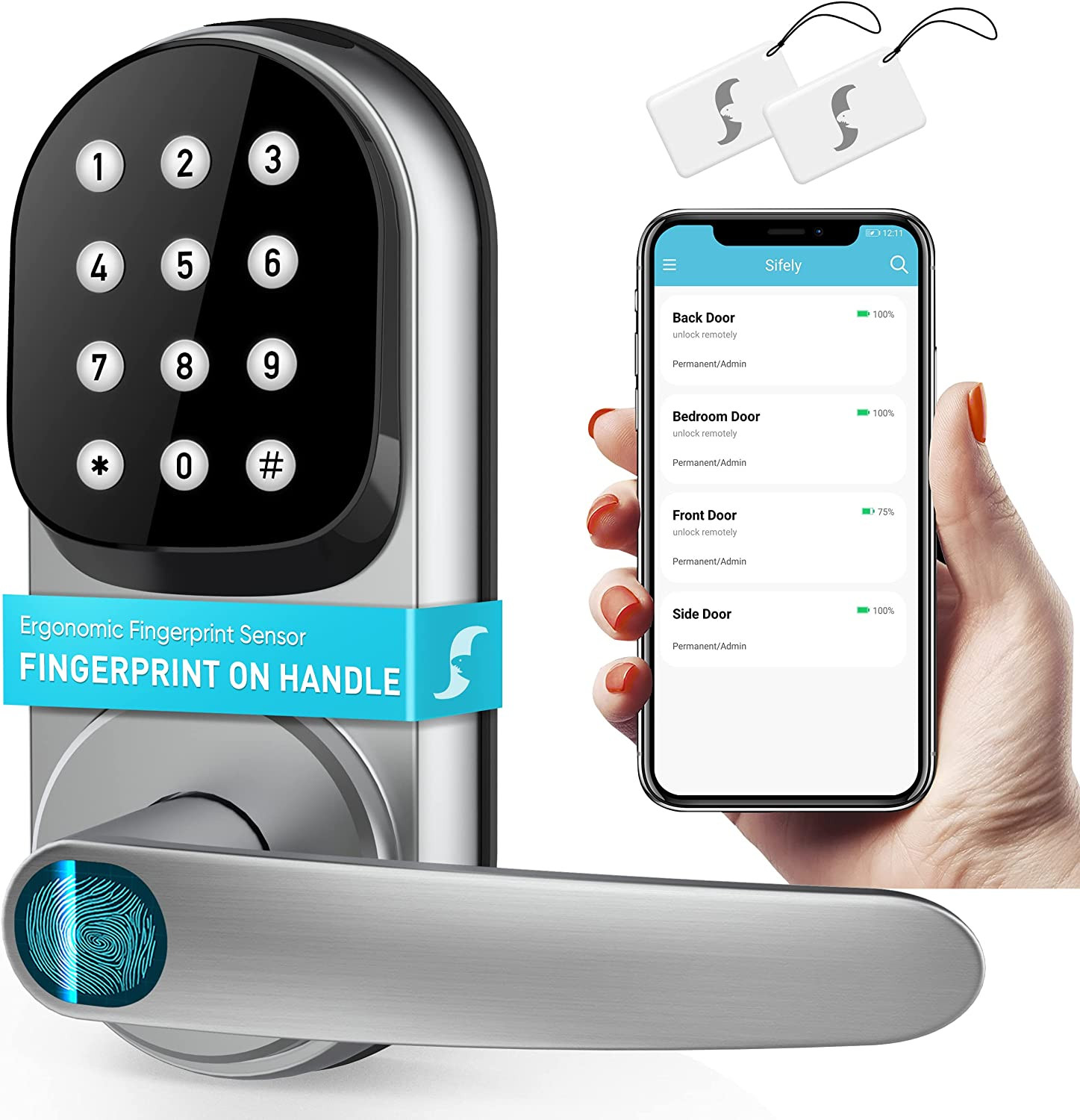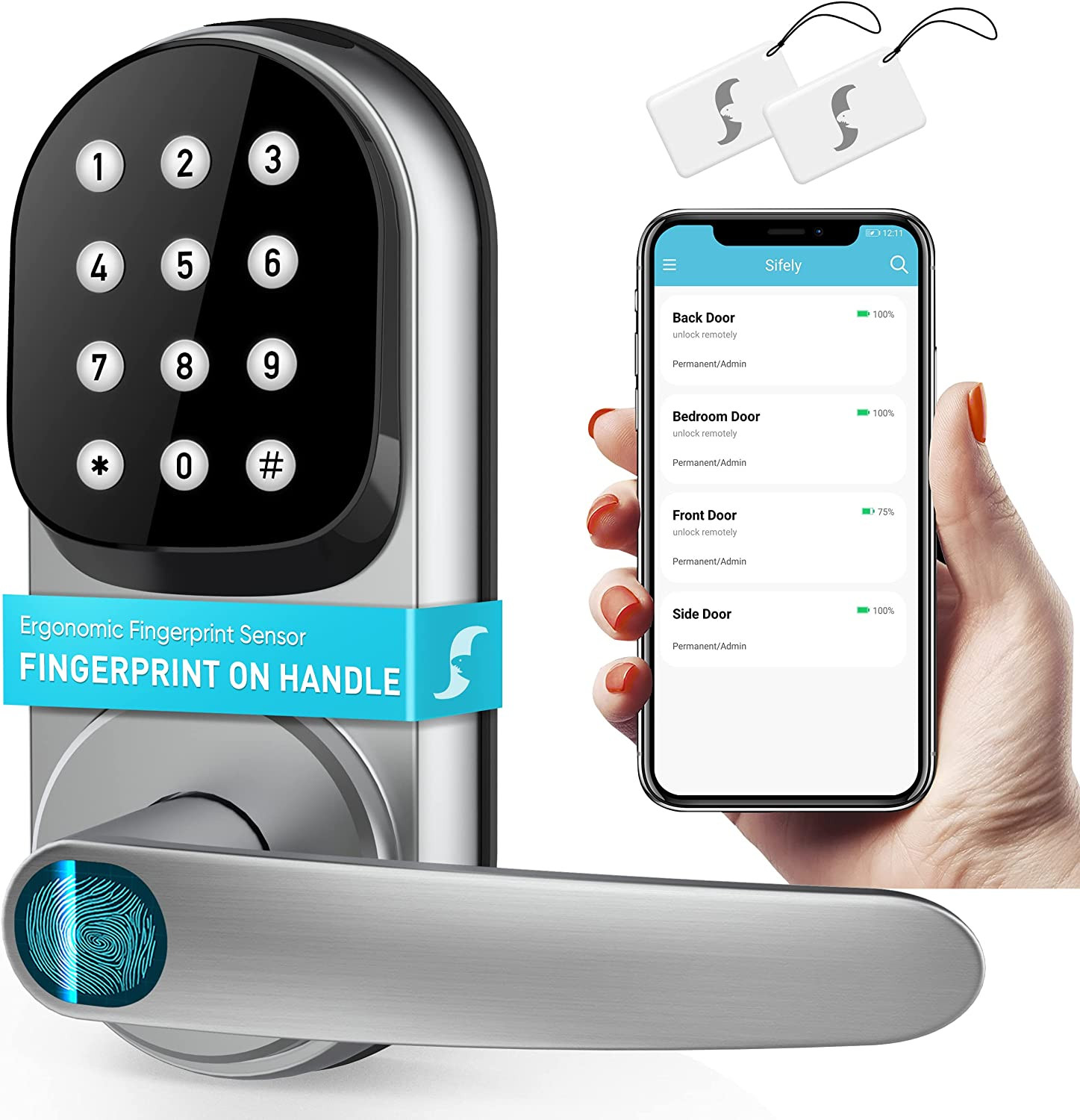 Smart Lock, Sifely Keyless Entry Door Lock, Smart Door Lock, Door Lock with Keypad, Smart Lock Front Door, Fingerprint Door Lock, Smart Lock with Handle, Digital Door Lock, Keypad Door Lock (Silver)
[Rental Hosts and Home Owners] Sifely smart door lock is a great solution for Airbnb short-term rental hosts, rental property management, and self-housing resident. Generate passcode remotely and share it to your visitors.

[6-in-1 Keyless Entry Smart Lock] 6 ways to unlock your door: Ergonomic Fingerprint Sensor + Custom Passcode + Key Card Fob + Wireless Key Fob + 2 Back up Physical Keys + Fully App Control. Never worry about forgetting your keys and lock yourself out. Auto-lock is enabled in case you forget to lock on the way out.

[Fingerprint on Handle] Designed for quick and secure access with a ergonomic patented fingerprint sensor on the door handle. Recognizing prints and opening door in one step by simply turning the handle with your thumb on it !

[DIY & Easy Installation] Easy to install in minutes with just a Phillips screwdriver. No extra drills needed. No locksmith needed. Door handle is reversible for both left and right handed doors. Due to lock size, it may interfere with screen doors or storm doors.

[Remote Control / WiFi Access] If paired with Sifely WiFi Gateway (Optional Add-on, Sold Separately), you can lock/unlock your smart door lock anywhere anytime, set up codes remotely and check real-time access logs.
You can easily add more later or return those you don't need
This vendor guarantees the lowest price and fastest delivery for this product.
This purchase uses our optimized order fulfillment network
We always want our customers to get the lowest price and fastest delivery on everything they order from us.
Sometimes this is best acheived by having your order fulfilled by one of our premier trusted affiliates.
We offer this service so you always get your products on time and at the best price available.
Smart Lock, Sifely Keyless Entry Door Lock, Smart Door Lock, Door Lock with Keypad, Smart Lock Front Door, Fingerprint Door Lock, Smart Lock with Handle, Digital Door Lock, Keypad Door Lock (Silver)
Quality Features Designed for Ease
Code Versatility for Your Needs
The lock can store 200+ codes and 150+ fingerprints. Between Permanent, Timed, Recurring, and Custom codes, you can generate the code that is right for you!
Most codes apart from custom codes can be generated remotely! Custom codes need the Sifely Gateway to be generated remotely.
Auto-Lock Enabled!
Forget to lock on the way out? No worries, auto-lock will lock it for you.
Don't want it to lock behind you? We got you covered, enable passage mode for seamless entry and exiting during the schedule you choose!
Active Feedback
"Unlocked", "Locked", "Battery Level Low" and much more!
Our lock lets you know what is happening, keep out of the guesswork of trying to figure out what's going on and live reassured.
Powerbank Compatible
Even if you miss the low battery notifications, use a powerbank to power it up via a small power slot and get yourself inside.
Works with Smart Speakers
Our lock combined with the Sifely Gateway provides the most convenient experience by simply asking your smart speaker to lock or unlock our lock.
Low Energy Usage
With 4 AA batteries (not included) go up to a year without worrying about the batteries and learn to enjoy the convenience!
For Homeowners, Business Owners, and Managers Alike!
Instantly, Easily Generated Codes!
Help manage your rentals with convenience remotely (with Sifely Gateway) for your guests and tenants.
Whether it's creating a code for a guest's stay or a one time code for a visitor, our lock gives you convenience when you need it!
Access Granted!
Add an extra layer of monitoring and convenience to your business for you, your employees, and customers.
Own a small business or a large company? Our lock can be part of your peace of mind with easily retrievable access logs and a many ways to share access quickly with your customers or employees.
Manage Access and Monitor Activity!
Enhance your operations with reliable and connected access by using our webportal in combo with Sifely Gateway.
If you run a small motel, vacation rental, or manage a building complex, take advantage of constantly connected locks to issue or revoke access via Fob, smartphone, passcode instantly with a few clicks or just a few swipes!